ISOLA'S COMMITMENT TO QUALITY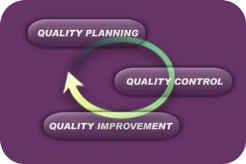 Isola exceeds our customer's ever-evolving expectations through Quality Excellence, Innovation, and Continuous Improvement.
Quality is built into every product design and manufacturing process to ensure conformance to customer requirements.  Isola's Lean Six Sigma culture creates a shared responsibility by every associate for Quality Control and Improvement.
This is achieved through implementation of three key Quality strategies:
Planning
Control
Improvement
The company holds the following international standard certificates: