Quick Turn Around (QTA)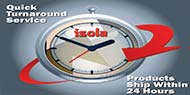 Get to market faster with Isola's QTA Program
Isola is continually enhancing its Quick Turnaround (QTA) Service to support its customers' Just-in-Time (JIT) inventory strategies and QTA programs.
Expediting production to reduce the time-to-market presents a big challenge for PCB fabricators, considering the variety of base materials and configuration options involved in the production of complex, multilayer PCBs. Many PCB fabricators rely on JIT inventory strategies to improve the management of their supplies and to meet the increasingly demanding needs of their customers for fast production of finished PCBs, often in support of new product introductions. Isola supports its customers with QTA offerings tailored to meet their specific needs.
Isola has successfully reduced the average lead-time for standard orders of many products to 4 to 6 business days. While this standard lead-time is impressive, Isola now offers further premium tiers to its QTA service. Depending on the customer's urgency, select laminates and prepregs can be ready to ship in 48-, 36-, 24- or less than 24-hours. Isola guarantees the order will ship as scheduled.
Customers can order the precise amount of product needed, enabling them to reduce their inventory levels and the risk that prepreg expires on the shelf.
Contact your local Isola Inside Sales Rep for details.
Terms & Conditions of Sale
Americas Terms & Conditions of Sale
Europe Terms & Conditions of Sale
Terms & Conditions of Purchase
Americas Terms & Conditions of Purchase
Europe Terms & Conditions of Purchase