Quick Turn Around (QTA)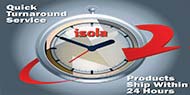 Get to market faster with Isola's QTA Program
Expediting production and reducing time to market are big challenges for printed circuit board fabricators. Isola's Quick Turnaround (QTA) program is tailored to meet your needs.
Because customers need a superior service model to support quick turnaround PCB fabrication, Isola offers QTA service with premium tiers. Select laminates and prepregs can be ready to ship at one of four speeds—from less than 24 hours to a maximum of 48 hours. Isola guarantees the order will ship as scheduled.
Isola's QTA service supports our customers' just-in-time inventory strategies, enabling them to order the precise amount of product they need, reduce their inventory levels and lessen the risk of materials expiring on the shelf.
Contact your local Isola Inside Sales Rep for details.
Terms & Conditions of Sale Click Here
Terms & Conditions of Purchase Click Here